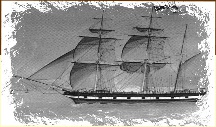 James was born 1813 in Buckland Brewer, North Devon, but was christened on 13th.October 1816, Catsborough, Frithelstock, Buckland Brewer (he appears to have used this date as his birth date later). Father was Bartholomew and mother Elizabeth (nee Wheeler) who married on 30th.June 1803, again in Buckland.
In 1837 he married Margaret Brown in Abbotsham and she gave birth to John in Morthoe in 1838 and Mary Anne on 13th.January 1839 (baptised 3rd. February) in Horwood Village. James was shown as a carpenter on her birth certificate.
They seem to have parted soon after this as in the 1841 census he was shown as residing in East-the-Water, Bideford employed as a shipwright and she in Horewood, with the children, as an agricultural labourer.

Many ships were built over the next few years in Bideford sailing to and from Canada, particularly Prince Edward Island ( where there was also a thriving shipbuilding industry), taking emigrants over there and returning with timber. These journeys could be only made in the summer months due to ice, each trip taking about six weeks, so therefore most ships could only do two round trips each year.

According to letters left by George T Parkhouse, a son of James through his marriage to Elizabeth Holman, James was a stowaway on a ship in 1844. It hit a severe storm and a mast collapsed over the side. Having his carpentry tools on board James offered his services to the Captain and they managed a temporary repair to the mast and proceeded to Halifax, Nova Scotia where the ship was put in good order again. They then proceeded to Prince Edward Island and St. Johns, New Brunswick.

There were only a few ships that left Bideford Port that year, the largest, carrying 70 passengers, was the Barque "Hartland" (similar to that on the cover), 487 tons, sailing on 27th.April and arriving in Halifax 44 days later under Captain Gilman. From there to P.E.I. and on to Quebec, (as reported in the "Islander" a P.E.I. newspaper on 21st.June, 1844.)
This vessel was registered and built by Thomas H. Haviland in the port of P.E.I. in1843.

Elizabeth Holman was on the same ship as James along with her mother, Elizabeth Williams Holman and several brothers and sisters who were going to join the oldest son, James Holman in S.Winslow P.E.I. He emigrated in 1836, age 18years, a year after his father, also James, died in Westleigh, N.Devon on 24th.April 1835, aged 43 years. It is likely that James and Elizabeth knew each other before the voyage, she living in Westleigh and him less than 3 miles away in East-the-Water.

They were married on 28th.October 1844 as per the following entry in the P.E.I.Marriage Register 1844-1852, p.35:-
Holman, Elizabeth, spinster, Parkhouse, James, bachelor, (although still married to Margaret)
Married by license by L.C.Jenkin
Recorded 3rd.January, 1845 by R.Hodgson Sur.
Witnesses- George Holman b.19Aug.1821 and Maria Holman b.5Mar.1825. ( Brother and sister of Elizabeth).

They then settled in Saint John, New Brunswick, whilst her mother joined her farmer son James in Winslow, P.E.I., (where she died on 18th. Jan.1875.)

Then on to Portland, Maine, where William Henry was born in 1849, (after two children died),
followed by Elizabeth Jane in 1851 and then George Thomas in 1853.

From here they moved to Montreal where Elizabeths sister Caroline Louise lived, married to Robert Gladstone. More children were born here, Mary Ann 1855, Frederick James 1858, Emma Louisa 1860. They now travel through Lake Ontario to Ingersoll. Oxford County, as recorded in the 1861 Census ( See the separate page with all census details and birth dates etc,).

As a ships carpenter James almost certainly travelled across the Atlantic to North Devon and back to P.E.I. many times in the first ten years of their married life. He was recorded as staying in Northam Ridge, Bideford, in the 1951 census. This was the year that his (first) wife, Margaret married John May on 5th.December. They may have divorced, but no record can be found. From 1860 on, it appears that James may have sailed on ships working the Great Lakes.
The next record found is on 3 July 1865, in the "Ninth Ward Enumeration, Chicago City, Cook" where all the family are shown. However in the 1870 Clinton, Iowa census Elizabeth with all her children is shown, but no James. According to her obituary in May 1903, in Jamestown North Dakota, it states that James died 36 years previously. This ties in with an account by son George Thomas that he left school at 13 had to sell newspapers in Chicago in the mid 1860s to help his widowed mother.

No record can be found of James's death (if he did die, bearing in mind his previous history).

However there were many deaths in shipping disasters on the Great Lakes and the rivers Ohio, Missouri and Mississippi during 1865/6/7. In 1865 there were 421 disasters including the sinking of the "Sultana", carrying Union soldiers returning from the civil war, where 1547 died (still the highest death toll in a single sinking). 1866 had 621 disasters with 175 deaths and in 1867 211 died in 931 incidents.

What happened to the children?

William Henry
- In the 1910 St.Louis, Missouri, census he was a Retail Merchant, married twice, now with Marie C., for the last 28 years. Her parents were born in France. No Children.

Elizabeth Jane
- Married to William Staner , living in Nashville, Tennessee.

George Thomas
- Was an engineer on one of the Mississippi Rivers steam boats, by trade a millwright, also built many cotton gins (cotton separation plants) throughout the South and Texas. He was President of the "Oil Mill Superintendents Associaton" a Freemason and strict teetotaller. Talked about his education in the "Dallas Morning News", 1945, being from the "school of hard knocks" and that "he didnt hold with ancestry". His son George Marshall P served as a State Senator for 30+ years.
George T was married to Emma (Todd) in Cook County. Illinois for 29 years. He died in Dallas on 22 September 1946, age 93.

Isobella Caroline
- Married James B. Blades in 1883 and lived in Jamestown, North Dakota.

Emma Louise
- Became Mrs. Juhl and lived in Cedar Rapids, Iowa.

All the above were alive when their mother, Elizabeth, died on the 5th .May 1903 in Jamestown, according to her obituary, but there were 10 children in total. We know that two died in infancy before 1849 and that Mary Ann and Frederick James must have
died between the 1870 census and 1903, leaving one unknown.


James Parkhouse
b.1813, chr,13.Oct.1816, d.1866?